Wedge anchors are heavy-duty anchors designed for fastening into solid concrete. Ideal for attaching two by fours, sill plates, and electrical equipment. Also good for attaching structural supports to concrete, tilt-up construction, highway rails and posts, electrical, HVAC and plumbing systems, metal doors and window frames. Corrosion resistant, one piece stainless steel clip. We have wide range of variety in this categories of anchor fasteners.
Features
Highly tensile
Corrosion resistant
One Piece Stainless Steel Clip
Enquiry
Sleeve Anchors
Concrete Sleeve Anchors' design allows them to anchor into concrete, brick and block. Sleeve anchors work by inserting them into a hole drilled into concrete. Turning the nut pulls the working end of the sleeve anchor up through the sleeve, expanding and anchoring itself securely in the concrete, brick or block.
Features
Suitability:Brick & Solid Materials, Concrete / Dense Stone
Installation Type:Push-Through
Durable
Enquiry
Self Drilling Anchor
Based on the design of rock drilling tools, the optimized designs of bit improve drilling efficiency. Apply good quality material, with good ensile stress and elongation, the rod has more reasonable centre hole for well grouting. Self-drilling anchor fasteners have two performances :one is drilling ,the other is grouting. Anchor can be installed with Hex Bolts, Stud and Hook bolt, etc., After installation, concrete will not be effected in appearance as a rise on the surface. Self Drill anchor is an improved expansion anchor with internal thread and a plug, and is the most popular anchor.
Features
Reliable
Efficient
Convenient for any type of Construction
Enquiry
Bolt and Shield Anchor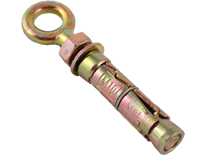 torque controlled mechanical shields with large expansion suitable for general purpose anchoring in concrete and solid masonry, not recommended for use in hollow or perforated masonry, bolt head version for low profile finish. this is a pre-assembly style anchor requiring installation of the shield in the substrate prior to placing of the fixture and installation of the bolt.
Features
Reliable
Efficient
Convenient for any type of Construction
Enquiry
Strike Anchor
Strike anchors are fasteners used for light duty fastening in concrete. They canít be used in other masonry materials. These anchors include a body made of carbon steel and a drive pin made of carbon steel that is hardened.The strike anchor is set in the concrete by hammering the pin down the middle of the anchor.
Features
Reliable
Efficient
Convenient for any type of Construction
Enquiry
Nylon Anchor Fasteners
Nylon Anchor is a removable light duty, impact/rotation setting, interference fit anchor, with a variety of head styles, designed for use in a variety of substrates such as concrete, stone, solid brick, solid block, grout filled block and hollow block. material used : nylon and electroplated galvanized screws applications : for fixing door & window frames etc.
Features
Strong Dimensionally
Accurate Design
Long Lasting
Enquiry
Bullet Type Anchor Fasteners
We are instrumental in bringing forth for our clients a wide range of Bullet Anchor Fasteners. In this range, we also offer drop-in anchor fasteners that are female concrete anchors, especially designed for anchoring into concrete. Clients can avail these bullet anchor fasteners in white and yellow zinc plated finish. Anchor provided by us needs to be dropped into the pre-drilled hole of concrete. After that, using a setting tool, anchor within the hole in the concrete should be expanded. These products are internally threaded, which allows the mounting hardware to be removed easily while leaving the anchor in place.
Features
Strong Dimensionally
Accurate Design
Long Lasting
Enquiry